Pro Oxnard Concrete Services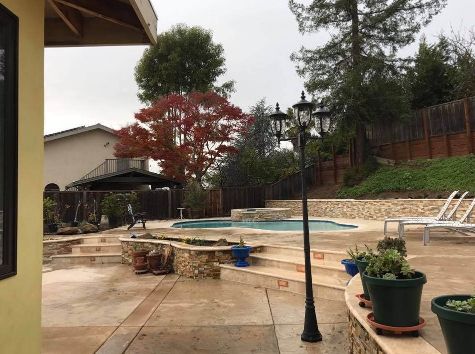 We at Pro Oxnard Concrete always make it our mission to provide you the best services in the industry. Thanks to our dedicated professionals, we can go out of our way to make a client satisfied. So if you are looking for the best contractor for your construction needs, you have stumbled across the right page. Call us today on (805) 600-5825, and we will promptly figure out ways to bring your project to life. 
Good contractors provide a few services that they specialize in. But only the best like us can offer you a wide range of services while upholding the same high standards across the services. We make sure that each of our services is top-notch and make it our business to establish a relationship with our clients through trust and transparency. If you are looking to have masonry work done, we are the perfect company for you.
Our expertise in masonry work is unparalleled from brick pavers, stone pavers to fireplaces, and patios. Moreover, we provide all kinds of concrete works, including concrete driveway, patio, pool deck, and walkway with equal gusto. Below we have listed a few major services we provide, but the list doesn't necessarily end there.
Get in touch with us to know more by dialing (805) 600-5825 today.
Concrete Driveway
Concrete driveways are a great way to enhance the efficiency of your property. Concrete is durable, strong, long-lasting, and on top of that, you can even customize the surface to your liking. Working with concrete, however, is not the easiest of tasks. That's why we have specialists to take care of your driveway so that you can have peace of mind.
Pool Decks
The pool deck area needs to have a great surface to enhance the look of the pool area. You will need the pool deck to be reliable, long-lasting, resistant to adverse conditions, and strikingly beautiful. That's why we have mastered the art of constructing the perfect concrete pool decks. Not only that, but we also provide equally great service while installing cool decks and kool decks. 
Patios
Your patio can be a make or break a deal in front of your guests. A patio can greatly enhance your property if it's constructed flawlessly. That's why we have people who have the experience and also have gone through intense training to provide you a beautiful looking and functional patio. We don't just work with concrete, depending on our clients' demands, we also install patios with bricks and natural stones.
Fireplaces
Installing fireplaces the right way is not an easy thing to do at all. There are so many factors that need to be addressed during the process. But if constructed properly, fireplaces sure look gorgeous. We are not only great with concrete fireplaces, but we also install brick fireplaces, stone fireplaces, and fire pits with equal expertise.
For any kind of concrete services, you will need professionals. As the company leading the market, we provide excellent services in this regard. We offer concrete services like concrete pouring, concrete foundation, concrete resurfacing, concrete leveling, concrete pavers, and retaining walls. On the masonry front too, we cover all the bases, including brick pavers, chimneys, stone pavers, decorative walls, and stone veneer.
The list of services we offer is quite endless, but the quality is always the same – the best. 
We also offer concrete and masonry services in these areas:
Whenever you are looking for a quality contractor, you need to make sure that the contractor's performance history speaks for itself. And that's why we always strive to provide quality performance for our clients so that each and every one of them feel happy with our works. From any kind of residential project to all kinds of industrial projects, we have a fully optimized workforce that will dive in full commitment and conviction. So what are you waiting for?
Call us on (805) 600-5825, and we at Pro Oxnard Concrete will be more than happy to help you out.