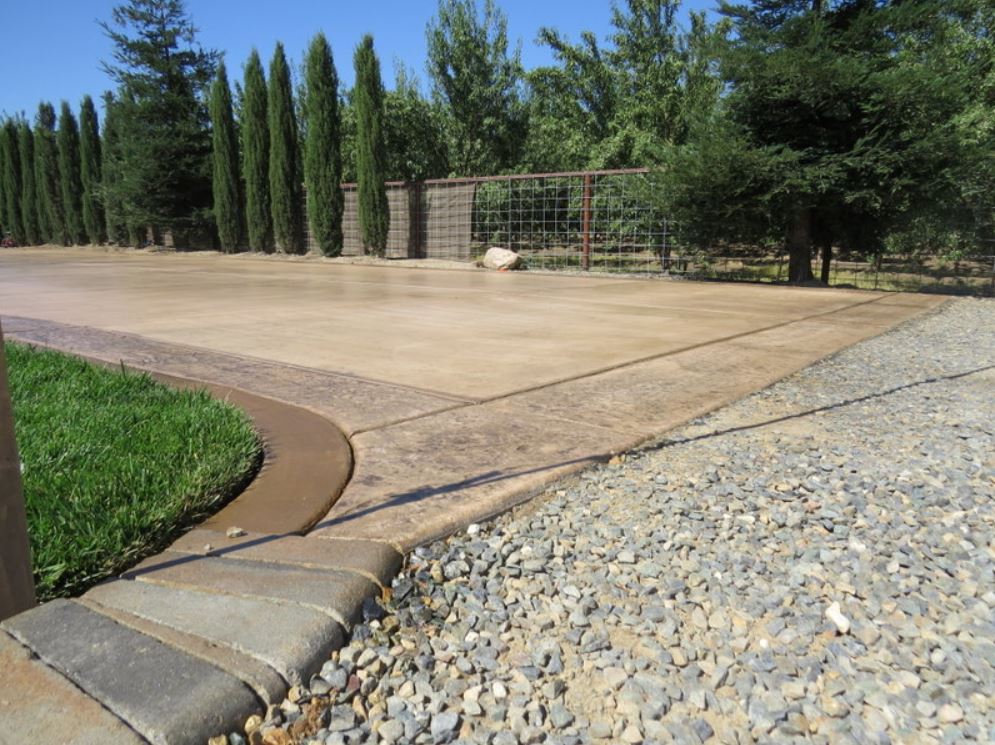 The use of stained concrete has dramatically increased over the past years. Concrete contractors like us are incorporating it on floors, patios, driveways, and walkways for a fantastic result.
Most-Trusted Stained Concrete Contractor
We at Oxnard Pro Concrete continuously suggest the use of stained concrete in both residential and commercial settings as it offers several benefits from being low maintenance to being durable, not to mention cost-efficient. This innovative method of using stained concrete in your home or office provides lots of benefits.
Want to know more about stained concrete in Oxnard? Call us at  (805) 600-5825, and we will be glad to discuss this with you.
However to give you some quick insights of what are benefits you will enjoy if you decide to tap us and use this type of flooring style.
Benefits of Stained Concrete
First, the use of stained concrete, whether on your patio, driveway, walkway or inside of your garage, will offer you a uniquely visually appealing stained floor. It can look like a million-dollar flooring but a fraction of the cost, but only when done by experts. Oxnard Pro Concrete can turn your dull, plain concrete slab into a luxurious material, and we can make it look like marble, sandstone or granite, name it we can do it. Contact us through our form, and we will provide you with a quick estimate and how soon we can finish the job.
Secondly, stained concrete is durable and resilient. Concrete floors, when done correctly, offer strength, durability, and last longer. It won't flake, will not crack easily or chip off. Staining them will prevent any peeling as compared to painting your concrete floor.
Eco-friendly and increased energy savings. Since it lasts longer, materials like this won't quickly go to waste. It can be repurposed and recycled as well. Concrete can also absorb heat and coolness, which can reduce the workload of your AC or heater during the summer and winter.
Concrete is water-resistant, and although some moisture can seep into your concrete, it will not be that significant to cause colossal damage. Adding some stain won't make it less stable, nor will it provide added strength. It will, however, make it stunningly beautiful. We at Oxnard Pro Concrete had handled a lot of this project, and we know exactly what we are saying.
And as experts on concrete and masonry, we assure clients that our concrete floorings are all durable. We make sure that it can last longer and remain durable for years. Adding stains on them will further enhance the beauty of the concrete giving it a stylish, elegance, and beautiful concrete flooring. If you need to add more special effects, colors, or anything, contact us and learn more about how we can create a luxurious feeling for you every time you step into your patio, office, room, etc. Call us at (805) 600-5825, and we will explore the options we can do for your dream project.
Why Hire Us
Oxnard Po Concrete guarantees all clients that our stains are of high quality. We assure them that we can put in hints of bold design accents, graphics, and various colors and hues. As a seasoned contractor, we can apply stains both to new and existing concrete. You can choose between our water-based stains and acid-based technique, depending on the look that you want.
So, if you want to stain your kitchen floors, bathroom floors, garage, and entryway floors, commercial or residential concrete floors, Oxnard Pro Concrete can deliver, on time, and budget. We also guarantee that our stains penetrate deep into the concrete, giving you a longer-lasting and fade-resistant color. It will not peel off, nor will it flake, that is our promise. Dial  (805) 600-5825 and learn more about our stained concrete services.