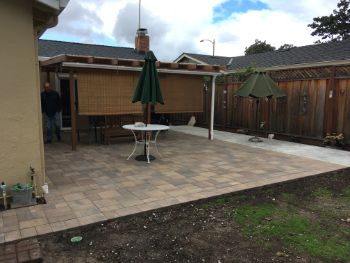 Having a patio at home could help you relax, unwind, and entertain guests. It can add more space to your property. There are lots of materials that you could use when you plan to have a patio. However, if you are on a budget, a stamped patio could be the thing for you. Oxnard Pro Concrete has been in the business of building patios, outdoor kitchens, pool decks, stamped driveway, concrete walkways, and many more. We have catered lots of customers and projects, big and small. And we know precisely what your patio needs are. Send us your data by filling out our contact form, and we will be happy to send you our quotations.
A stamped patio is what you need if you want a patio within your budget yet adorned with either natural stones, slate, tile, brick, and wood.  Created with stamped concrete that mimics stones, lumber, bricks, or any other expensive patio materials out there, it can turn your ugly patio into a very spectacular outdoor space.  At Oxnard Pro Concrete, we can create a range of stamped concrete designs, texture, and color to beautify your patio, driveways, pool decks, and more.
Contact us at (805) 600-5825, and we will show you the variety of Oxnard stamped patio designs we have in store for you.
How Much Will a Stamped Patio Cost?
It will generally depend on the size of your dream patio, the materials you want, and the intricacy of the design. However, as a leading concrete contractor in the area, we can give you a free estimate of a stamped patio. Just provide us with all the details in the form, and we will call you back as soon as we get your data. Our team of experts will discuss and explain to you how we have come up with a cost. Of course,  you can be sure that we will be providing you with the most reasonable and competitive price.
Is Having a Stamped Concrete for Your Patio Worth It?
Unless you can afford to splurge on something costly, a stamped concrete may not be your thing. But if you want a durable and presentable concrete that replicates expensive patio materials, then yes, it is worth it. Stamped concrete for your patio can help you save more and adds more aesthetic value to your property. When you are on the business of buying and selling, this could help you maximize your investment return.
Is My Stamped Patio Slippery, and How Long Will it Last?
Okay, first things first. When you use stamped concrete with a textured surface, it can be slip-resistant. But just like any other material when wet, it can still become slippery but not as slick as a natural stone is when damp or when applied with film-forming sealer. For durability, the stamped concrete's longevity, when done professionally and maintained properly, is more than 25 years. It can last as long as your usual concrete, but make sure the pros like Oxnard Pro Concrete install it.    Connect with us, and we will make sure that all your problems will be taken care of.
Which is Better for My Patio Paving Stones or Stamped Concrete?
Again, it will depend on your taste and budget, and other technicalities which are better off being explained by our experts personally or over the phone. However, to give you an idea, both materials cost almost the same and will look stunningly beautiful on your patio. But let our masons and crew do their job and explain thoroughly what choices are best for you and your patio.
Call us at  (805) 600-5825 now, and we will give you an estimate and suggestion.