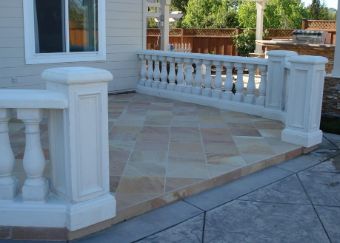 Do you know what you want in a Oxnard patio project but do not know how to layout the details? Our team of experts can create a design that is exclusively for you. Oxnard Pro Concrete has built a gallery of patio for years and has gained followers and satisfied clients. We are 100% proud of our projects, and as your local patio builder, we can assure you that we will provide you with the personal service that you truly deserve.  
We at Oxnard Pro Concrete can design and build that consist of stones, paver patios, pool decks, fireplaces, and many more. Our crews and artisans can transform your backyard space into a stunning patio complete with hardscapes and landscapes. The choice is yours. We can add visually beautiful features to your outdoor space and turn them into your private getaway place where you could enjoy the company of your family and friends, entertain guests, or chill out.
Call us at (805) 600-5825 and get free estimates.
Patios by Oxnard Pro Concrete
Patio, when designed by the pros like Oxnard Pro Concrete, can transform a resting place in your property into your dream outdoor space. However, a lot of people would ask what materials to use when I decide to have a patio?
If you want a new patio, we can discuss this matter with you if you call us at  (805) 600-5825, we will be happy to give you the estimates to work around.
Our experts will also suggest what materials we will use depending on your location, the size of your proposed patio, and many more. Here are some of the patio materials commonly used in the country to give you hindsight of the materials best suited for patios. Bricks, concrete, natural stones, slabs, pavers, and more are usually used in patios and hardscapes. You can choose any of these or add anything that our masons will recommend. If you have an existing patio and want to have it repaired or remodel it or upgrade the design, it will cost less than from scratch. Contact us right now, and we will give you a doable ballpark figure for your project.
Our masons will give you an idea of what materials are suited based on your location and the weather. We will provide you with options and other designs that can combat the elements and, at the same time, ensure that your patio and the materials stay longer. Do not worry, and we will make sure that our skillful workers do all your patio and hardscaping projects.  
Hardscaping and Landscaping
And while we are building quality and beautiful patios, we are also experts in landscaping and hardscaping. To give you an idea of what hardscaping features we can add to your patio, here are some of the basics which we suggest as starters; retaining walls, water features, fireplaces, walkways, pool decks, outdoor kitchens, walkways and many more. The choice is truly yours. All we do is recreate what your mind has already conceived.  
So, after our craftsmen and workers are done with their hardscaping job, you can now discuss landscaping with our staff. This will give additional texture and accent to your outdoor space. A bed of flowers, a waterfall, functional garden are just some of the possible add on you can have for your patio.
To know more about us, we can be reached  (805) 600-5825 or provide your data on the contact form, and we will get back to you as soon as possible.
Our patio installers have years of experience and are equipped with the latest tools and know-how regarding the latest in the industry.