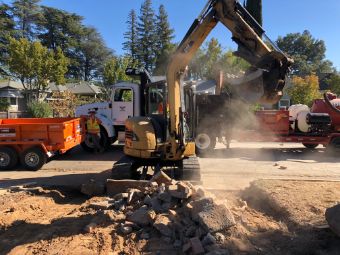 Concrete is a great material for all your construction needs. Versatility and cost-effective nature prove to be the winning formula for the rise of so many concrete structures. We are seeing an increasing number of structures traditionally made by materials such as brick and stones, opting for concrete. Driveways are also not left behind. Concrete driveways are the most seen driveways today, and why wouldn't they be? Concrete really goes well with the kind of strength and durability a driveway needs. We are going to discuss why you should go for a concrete driveway and the installation process behind a concrete driveway. If you need to know more about the material and are not sure which will be the best one for your project, don't worry, we are here for you.
Just give us a call on  (805) 600-5825, and we will assist you right away. 
Why Go For a Concrete Driveway?
If we cut right to the chase, then we have to say the biggest selling point of concrete is its cost. In comparison to other materials for the same job, concrete is quite affordable, so most likely, it won't burn a hole in your pocket. Secondly, concrete is durable. No, let us rephrase that concrete is extremely durable. It's so durable that if the installation is done properly, a concrete surface can last for decades. It's reliable, strong, and handles adverse weather adequately. On top of that, it's low on maintenance. People looking for customizability will not be disappointed either. Concrete can be given the design of popular materials such as various stones and bricks. So all in all, concrete provides you with everything a driveway needs. So if you have decided on concrete for your next driveway project, there's not much you can go wrong with that.
Concrete Driveway Installation
Concrete driveway installation is not an easy job at all. Numerous steps need to be followed in order to get a flawless driveway. Considering the work involved, it's always best to go with experienced professionals.
The first step involves the surveying of the area. In order to prepare the area, it needs to be free of weed and other intrusions. Then a wood structure is formed around the perimeter of the targeted area

After securing the area, gravel is added and compacted. Then a reinforcement material such as steel is laid over the gravel base.  

After this, the concrete is poured. Concrete is usually brought and poured on the area by a ready-mix vehicle. This is a very tricky step because concrete starts to harden quickly after it is poured. So there is not a lot of time to waste. The professionals help the concrete to expand properly.

After this, floating starts. Crew craftily smoothens the surface. But the job is not as easy as it may sound here. Floating needs a lot of factors to be addressed. Too much floating will leave the surface weak, and too little will make it appear rough. This is also the time when designs on the surface are added.

The last process is one of the most important ones. Concrete needs a lot of time to cure itself. For this, the temperature is a big factor. Roughly, a concrete surface needs a week or so to cure itself. After about a month or so, the surface should be sealed so as to make it immune to minor scratches. 
Concrete Driveway Installation: Why Hire Only Professionals
As you might have realized so far, concrete driveways in Oxnard sure look good, but they are not very easy to build. Going with  methods is not even an option since there's very little room for error while working with concrete. The pouring is extremely tricky, and only experienced people can handle it. On top of that, designs and decorative concrete can only achieve perfection at the hand of professionals. That's why we at Pro Oxnard Concrete always provide you the required expertise and knowledge of the job.
To know more about us and how we can help you to get the perfect concrete driveway, just give us a call on  (805) 600-5825.