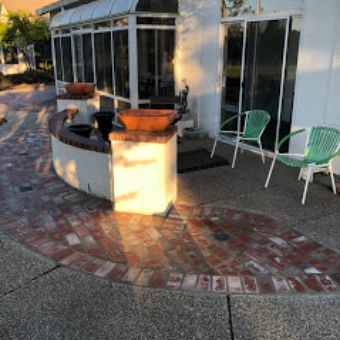 Do you need a professional brick paver contractor to install brick pavers on your property? Do you need concrete answers about your home project? You still cannot get over what brick paver will match where? Then it is time you consult the real deal, Oxnard Pro Concrete can answer all your inquiries and questions, and you even get to have an accurate estimate for your project.
We have been one of the most experienced, if not the most seasoned brick pavers contractors in Oxnard. We have installed brick-pavers, stone pavers, and concrete pavers for years, and our customers have nothing to say against us but the right words.
To verify, call us at  (805) 600-5825 now and get a smart approximation for your project. You may also check our social media pages if you want to know more about us.
Oxnard Pro Concrete can help you choose what design will suit your place and location, suggest what color mix will match, and provide you with a range of designs, patterns, and texture that can turn your dream place into a reality. We can spruce up your outdoor living space and make it your backyard getaway. We are staffed with professional masons, creative artisans, and hardworking crew that will take care of your paving project, on time and within the budget.
Oxnard Pro Concrete carefully chooses the best brick paver materials for you. Our brick paver supplier ensures our clients and us that their contents can withstand pressures and are durable. To ensure that you have a wide array of brick paver materials, simple solid bricks with flat edges, interlocking pavers design for fast and easy installations are readily available. It can also come in natural, earth-toned colors, or whatever you have in mind, and our masons can guide you throughout the entire process. You can fill out our contact form and expect a call from us as soon as possible.
Brick Pavers or Concrete Pavers?
Oxnard Pro Concrete has installed both pavers, and both clients are satisfied. If you want to know which paper is better, you have to see the difference. Brick pavers are made of compressed clay, heated at a very high temperature. It usually comes in a rectangular shape, while concrete paver is a mixture of cement, sand, gravel, and water, mixed and cured. Both are durable, especially when it comes from us, and will generally look good on your property depending on who will install them. By us, then we can turn your property, your driveway, walkway, patio, pool deck into a masterpiece. By them, well, we can vouch for them to you, can we?
Call us at  (805) 600-5825, and then we will talk.
Are Brick Pavers More Expensive than Real Ones?
Concrete pavers generally cost less than your regular brick pavers, but when done by a professional, you won't mind the extra cost. It can add more value to your home or property, not to mention how rustic or elegant it will look. When laid perfectly by the pros, expect a stunning view. Send us a message right now using our contact form, and we will provide you with our cost and benefit analysis.
We at Oxnard Pro Concrete are not just about paving, resurfacing, patio, pool decks, outdoor kitchen, stamped concrete, name it we have done. 
Call us now by dialing  (805) 600-5825 and let us start your dream project. And If you still want to know how brick pavers can suit your place, what are its advantages and what types are available, then pick up your phone and ring us, our masons and technicians can provide all the solutions to your questions.