Oxnard Concrete Countertops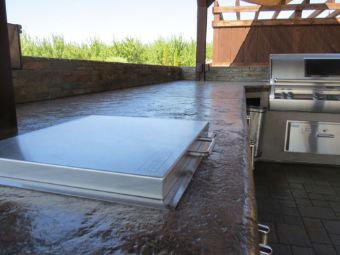 Do you need a concrete countertop fabricator? One who could build top of the line granite countertops, stone countertops, or outdoor countertops that have a unique design? Do you want to add a luxurious style to your kitchen all at a friendly price? Oxnard Pro Concrete has been in the industry for years, and our experience in building concrete countertops allowed us to determine what type of countertop is the right fit for you.
Learn more by calling us at  (805) 600-5825 and let us discuss whether your place needs granite countertops, stone countertops, or if your patio can accommodate an outdoor countertop.
Concrete Countertops by Oxnard
We at Oxnard Pro Concrete take pride in all our countertop projects. We make sure that our granite countertops, stone countertops, or outdoor countertops are not just great to look at but are incredibly functional, too, not to mention durable. Our company has been serving the area for years, offering a variety of concrete projects. So, when it comes to countertops, outdoor kitchen, fire pit, patio, hardscaping service, concrete slabs, and more, look no further than Oxnard Pro Concrete. Send us a message, and we will be happy to provide you with an estimate. You can also drop by at our office for an appointment.
Why Concrete Countertops?
This type of countertop is callous and durable. It makes an impact in the kitchen business, and unlike other countertops, this one offers owners versatility in style, shape, colors, aggregates, components, and finishes.
Concrete countertops, granite countertops, and stone countertops look way better than plastic countertops made from synthetic materials. Moreover, a unique concrete countertop can stand out in the kitchen and even in the patio. You can add accent pieces to it. Additionally, concrete countertops are easy to clean and maintain, functional, and at the same time, very tough. However, although concrete counters are robust, stains and water can eventually seep into your countertops. Thus, a regular application of sealer and wax is needed to protect the surface. This will also ensure that all spills and messes are swept away clean. Furthermore, the use of aggressive scrubbing pads or abrasive cleansers is a No-No.
Lastly, Concrete countertops, granite countertops, stone countertops, or your outdoor countertops will last longer when done by the experts. Visually it can retain its beauty and functionality for years for as long as you maintain it properly. For the cost, the number of years it will serve you will put down whatever amount you have paid.
So, if you need a customized concrete countertop, drop us a call, and we will provide you with the designs, the size and time frame. We can discuss the price further but do not worry, and we can work around your budget. And we will not force you to make any decisions.
Hire Us
To know more about us, you can always call us at (805) 600-5825 or check out our social media accounts for the various concrete and masonry projects we have done.  Aside from creating beautiful Oxnard concrete countertops, granite countertops, stone countertop, and outdoor countertops, we also handle retaining walls, install concrete slabs, create and design patios, walkways, driveways, concrete walls, stamped concrete and more.
Let us know how we can be of service to you. Give us a call right now or fill out our contact form. We will be glad to answer all your inquiries.