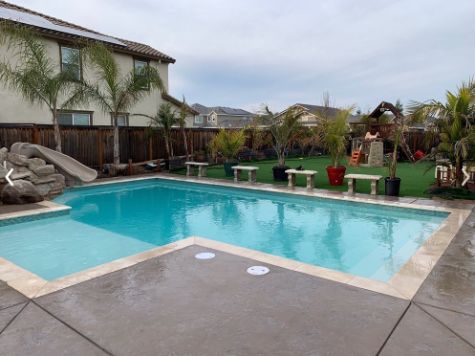 Is your pool deck already showing signs of fatigue? Is your cold floor then already fading, cracking, or worn out? Oxnard Pro Concrete is the answer to your problems. Our crew can provide you with a quick estimate so we can immediately act on your concern.
Contact us today for a quotation and let us start doing our current deck job for you. You may contact us at (805) 600-5825, we will be happy to take your call.
The Most Trusted Pool Deck Contractor in Oxnard, CA
Our company is prepared to meet even the strictest safety standards, not only to make your vision of our job but ensure that it is safe and durable. We assure you that we only use the most stringent and most proven materials and brands in the market today. We use concrete topping materials like the Kool deck to get the desired texture that we wanted. Moreover, Kool Deck concrete topping provides a colored surface that is both aesthetically beautiful and functional.
And if you do not have a pool yet, and dream of having one now, then wake up and message us through our contact form. Fill it out, and we will get back to you as soon as possible. You can always call us though at our office, or if you want, you can drop by at our office. We will be happy to provide you with all the requirements, a ballpark figure, and a timetable before you could see your dream pool with a fresh deck become a reality. Oxnard Pro Concrete guarantees clients that we will take all precautionary measures before embarking on any Oxnard pool deck projects. Your safety, after all, is our primary concern. We will evaluate the suitable materials in your location to prevent injuries to your loved ones and guests.
Our team of experts can safely remove the Kool deck coating and apply a new coat if your existing pool deck shows any dilapidated deck coating. As most contractors know, removing the deck coating from the cement can be tedious, especially when it has been sitting underneath the pool deck for the longest time. It is tough to scrape up the Kool deck coating on your pool deck. Good thing, Oxnard Pro Concrete is equipped with the latest technology and method to remove this without damaging your pool deck effectively. Not to mention the skills that our crew has acquired due to the years of experience and training.
You can grind it off as Kool deck coating is almost impervious to solvents and paint strippers, but Oxnard Pro Concrete strongly suggests that you let the pros handle this job. Do It Yourself (DIY) can be fun, especially when shown on TV, but the sad truth is, it can be time-consuming, tiresome and when not done right, it can cause damages and can even cost you more. Without the right equipment and only relying solely on TV and social media for your knowledge, DIY can be a disaster in the offing. Better be safe than sorry. Check out our site and see all the fantastic projects and concrete services we have done for our satisfied clients and customers.
Hire Us
Call us right now, and we will provide you with an estimate and suggestions. Dial (805) 600-5825 or send us an email with your complete details, we will get back to you the soonest time possible. Do not worry, and our high-quality work does not necessarily equate to expensive service. We offer unusual jobs at a reasonable price. All our concrete and masonry jobs, including pool deck construction and repairs, are under warranties. So what are you waiting for, give us a call right now and let us discuss what we can do to make your dream pool deck into your new favorite spot?