Oxnard Concrete Foundation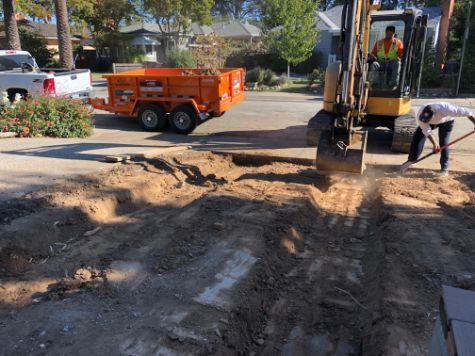 If you have stumbled upon this page searching for high quality and reliable concrete foundation service in Oxnard, you have come to the right place. We are Oxnard Concrete Pros, the most respected name in the field of concrete contractors. 
Whether you need a contractor to lay the foundation of a new home you are going to build on a parcel of land or face structural problems, we can carry out the project in your premises in high quality and very affordable prices.
Call us today at  (805) 600-5825 to get an instant quote for the project involving a concrete foundation in your property.
Oxnard Concrete Contractors
Are you noticing gaps between cabinets and the ceiling in your kitchen? You may believe that your kitchen appliances have become crooked, but in reality, the problem lies with the foundation of your home. Problems with the foundation can be seriously endangering the integrity of the structure of your home. 
However, there is no need to become frightened as most of these problems can be addressed. At Oxnard Concrete Pros, we have found experts who can diagnose, identify, and rectify the problem with your foundation. These engineers know everything about foundations and have helped dozens of homeowners get rid of their foundation-related issues.  
Get Your Foundation Repaired to Attain Peace of Mind.
Foundation issues can be nerve-wracking for any homeowner. This is because the integrity of the entire structure is dependent upon the foundation. There is no need to worry as we have engineers at Oxnard Concrete Pros having complete knowledge about foundations, their problems, and repairs. We can repair foundations of all types, whether they are cracked, setting, bowing, or damaged. We are fully licensed and insured to carry out concrete foundation design, installation, and repair for domestic and commercial clients in Oxnard and its surrounding areas. We make use of lifting and stabilization of the foundation to repair the issues that homeowners are facing. 
Driveways, Patios, and More
We offer a comprehensive range of concrete related services to our customers. We are local concrete contractors and pour not just premixed concrete buy years of experience when carrying out the concrete-related projects on our customers. Our expertise lies in all concrete structures, including driveways, patios, pool decks, platforms, and stairs. Whether you want to create a new driveway or repair the existing one, we are the one-stop-shop for all concrete projects in your property. You can rely on our expertise and years of experience to complete your project in quick time and high quality to your satisfaction. 
Enjoy the Visual Appeal of Stamped Concrete.
Do you still think of black pavers and driveways when you imagine concrete features? If yes, then you just wait and see how we create driveways that are a visual delight with stamped concrete. 
Call us at  (805) 600-5825 to book an appointment with our representative. We will visit your premises to discuss the details of your concrete foundation project with you.