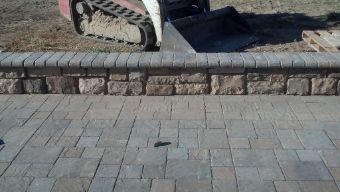 Stone is a primary and popular material used in the creation of buildings, sculptures, structures, etc. Stone is in use since primitive days and was used as a tool for hunting. Since then, it is widely in use and has gone under many transformations to suit various needs. Stone has a stronghold in the building and construction industry that engineers make use of to display their craftsmanship. 
Stone structures are extremely strong, and they stand the test of time. Ancient age stone structures are still standing tall, proving its mettle. Stone masonry is a full-fledged job in which mason uses their skills to shape rough pieces of rock into desired shapes. Oxford Concrete Pros is a skilled team of stonemasons fulfilling the need of stone structures in the construction industry.
For queries and quotes, call us on  (805) 600-5825.
Types of Stone in Building Construction
There are different types of stone used in the building and construction industry. You have multiple options to choose from if you are planning to use stones for the construction of your house or office. Some stones are very costly and are used in constructing monuments or other expensive structures. But there is some very affordable range available to suit everyone's pocket. They are not that expensive; still, they possess the feel and texture of expensive stones. 
Basalt
This type of stone is used for constructing roads, bridges, river walls, and dams. They have good resistance against harsh climatic conditions and moisture. They are used in big blocks and are tough to be cut or shaped in fine designs. They are very strong and hence used in structures that have to bear extreme loads. 
Granite
The texture of granite stone is crystalline that makes it attractive. It can be polished to give it a shiny look that is why this is very popular for constructing a kitchen shelf, tabletops, foundations, garden pavers, etc. There is also an option for color granite in the range of light gray to pink. 
Sandstone
It is used in combination with silica cement for constructing heavy structures like bridges piers, dams, river walls, and other masonry works. 
Slate
Depending upon the thickness and the color of the rock, it is used for various purposes. It is widely used as a roof covering many areas. 
Limestone
Good textured, dense, and compact limestone is used for roofing, flooring, pavements, etc. 
Marble
How stones are used to enhance the aesthetics of any structure? The answer to this question is in the use of marble. Marbles are used for ornamental works, flooring, steps, and facing. They are strong, uniform in texture can be polished, and can be cut and carved into desired shapes and available in different colors.   
Hire Oxnard Concrete Pros
Achieving the desired shape is no child's play as it needs ability and the right tools. As a top stonemason, we work with skilled workmen and tools to cut and shape a piece of stone as per the demand. We work with all types of stones used in the construction and guarantee the accomplishment of the desired result with our craftsmanship and experience. Call Oxnard Concrete Pros at  (805) 600-5825 to discuss your need for Oxnard stone masonry.