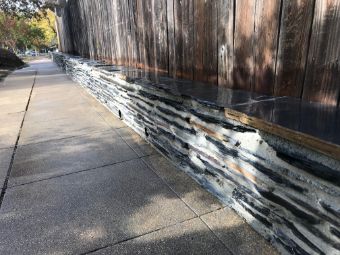 You have come to the right place if you are searching for high quality and reliable stone veneer service. We are Oxnard Concrete Pros, the most popular contractors providing high quality and reliable stone veneer services at affordable prices to our customers in home and commercial projects. 
Stone veneer is the application of a thin layer of natural stone for covering the facing or inlay work in homes and commercial establishments. Stone veneer not only looks beautiful but also enhances the value and longevity of the property.
Call us at  (805) 600-5825 to get the highest quality Oxnard stone veneer service from the industry leader having tons of experience.
Oxnard Stone Veneer Contractor
It is not difficult to fathom why everyone is looking for a stone veneer specialist to cover the faces of exterior walls in their homes and commercial properties. Natural stone looks wonderful and appealing to the eyes, but it takes the contractor's skills and experience to come up with veneers that look awesome. We are locally based contractors having tons of experience in creating beautiful surfaces for exterior walls in homes and commercial properties of our clients.
Wide Variety of Stone Veneer Services
We offer the highest quality installation services for stone veneer in Oxnard and surrounding areas in California. We can install a wide variety of natural stone cover on the facing to give the walls in the exterior of your property a stunning look and strength to last for a very long time. The natural stones in which we usually work are Ledgestone, mosaic, travertine, granite, sandstone, artificial stone, tiles, and much more.  
We can beautify the face of your exterior walls and the paving, the outdoor fireplaces, and other brick masonry projects in your home and commercial property. Our portfolio speaks volumes about the kind and nature of projects we have carried out in high quality and affordable prices on our clients. If you want, we can come up with a custom-designed stone veneer for your walls to create a mesmerizing veneer. 
Hardscaping of Your Property with Stone Veneer
Remember the name Oxnard Concrete Pros for all masonry and brickwork in your property at the best quality and most affordable rates. We are the local concrete contractors having a license to provide stone veneer services to clients in homes and commercial establishments. If you are planning to do some landscaping, we can do the hardscaping by creating outdoor features like walls, driveways, fountains, and paths to contrast them with greenery and vegetation. Our man-made features enhance the value and visual appeal of your landscaping and increase the total value of your property. 
Call us today at  (805) 600-5825 to get not only friendly and expert advice but also a no obligations free quote for the cost of the stone veneer project in your home or commercial property.
Book an appointment with our company and see how we help you save time and money and complete the project in your property quickly to your satisfaction.