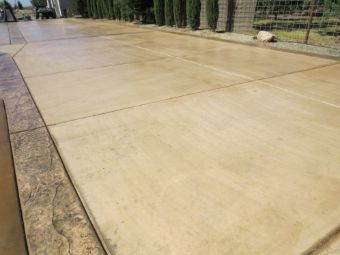 A stamped driveway could add more texture to your property. It can be visually appealing, especially when you are planning to sell it. Made from stamped concrete, this type of method offers you a variety of decorative options. It can replicate stones made to look like real cobblestones, bricks, natural slate, flagstone, and even wood that would look good on your stamped driveway. Learn more about Oxnard stamped driveway and stamped concrete by connecting with Oxnard Pro Concrete. We are adept in concrete jobs like resurfacing, refinishing, stamped patios, pool decks, pool decks, and more.
Dial (805) 600-5825, and we will get back to you as soon as possible.
Why Stamped Driveway
A lot of homeowners have switched to a stamped driveway as compared to using asphalt. Although a stamped concrete is more expensive than asphalt, having a stamped concrete with a design that is made of bricks, cobblestone and slate can add more value to your property thanks to the various designs that you can opt to utilize. Moreover, stamped concrete is less expensive than concrete pavers, bricks, and cobblestone but will last longer than these. A plain slab of concrete though can be pretty dull; stamping it, on the other hand, will create a unique and attractive surface, which can be used to decorate pool decks, interior flooring, flooring, driveways, walkways and more.
Installation of a stamped driveway can be tricky, but with the help of the professionals, this process can come out amazing. A professional contractor can easily manage to handle this job from excavation, preparing forms, pouring concrete, and finishing. Oxnard Pro Concrete has dealt with a lot of these types of situations. We have installed patios, concrete walkways, retaining walls, pool decks, pool decks as well as resurfacing and a whole lot more. Let us know what you need by sending us your data on our contact form, and we will be happy to help you.
There are processes to make a stamped driveway. Professional contractors like us at Oxnard Pro Concrete can take about a week, depending on the size and materials used for your driveway to finish. But for people who decided to do-it-themselves, the entire process can take more than the usual. And when not done correctly, it can do more harm than good. It is best to hire contractors who have done lots of concrete projects in the past. It will help you save you time, money, and effort, not to mention the peace of mind.
Call us now at (805) 600-5825 to get a quotation.
You can also visit us at our office and discuss your stamped driveway project personally.   
How long will my stamped driveway last?
Well, it will depend on your contractor, but with Oxnard Pro Concrete, your stamped driveway will have a useful and functional life between 30 to 50 years. However, it will depend on how well you maintain it or whatever fortuitous event your place may encounter after we have finished installing it. To manage your driveway, although most are maintenance-free – a good scrubbing with a water hose and stiff brush will help make your driveway clean and moss free. A concrete sealer will also be excellent as it adds a layer of protection. You can do this at least once a year. You can add the sealer just before winter season, as this will help your concrete against the elements and harsh cold weather.
Hire Us
Learn more tips about how we can help you with your dream project by connecting with us through our social media accounts or at the telephone number  (805) 600-5825.
You may also fill out our contact form and send it to us, we will reply to it as soon as we receive it.